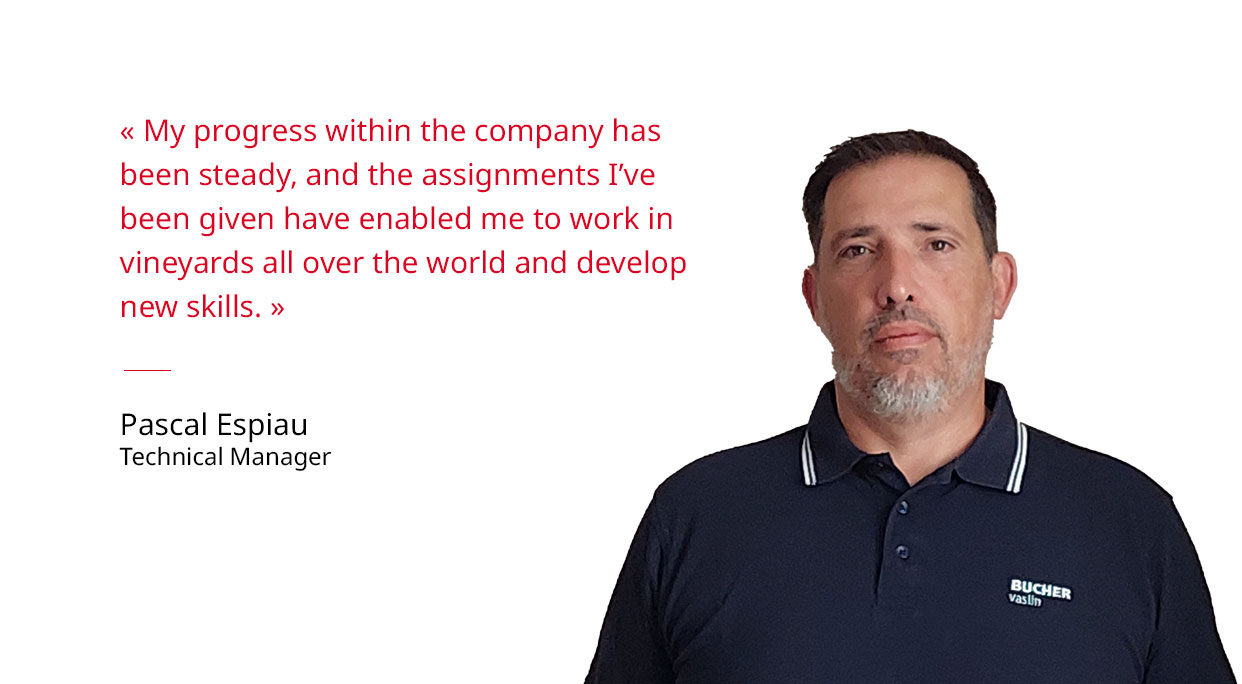 "After initial experience in the design of winemaking equipment, I joined Bucher Vaslin in 2000 as Design Office Manager for the Delta range.
My progress within the company has been steady, and the assignments I've been given have enabled me to work in vineyards all over the world and develop new skills.
Today, I manage the entire Technical Department, from Research and Design to the Hotline.
Bucher Vaslin's aim is to maintain its position as world leader by always listening to customers. In the Technical Department, our daily objective is to innovate for the benefit of our customers and maintain a high level of quality and reliability."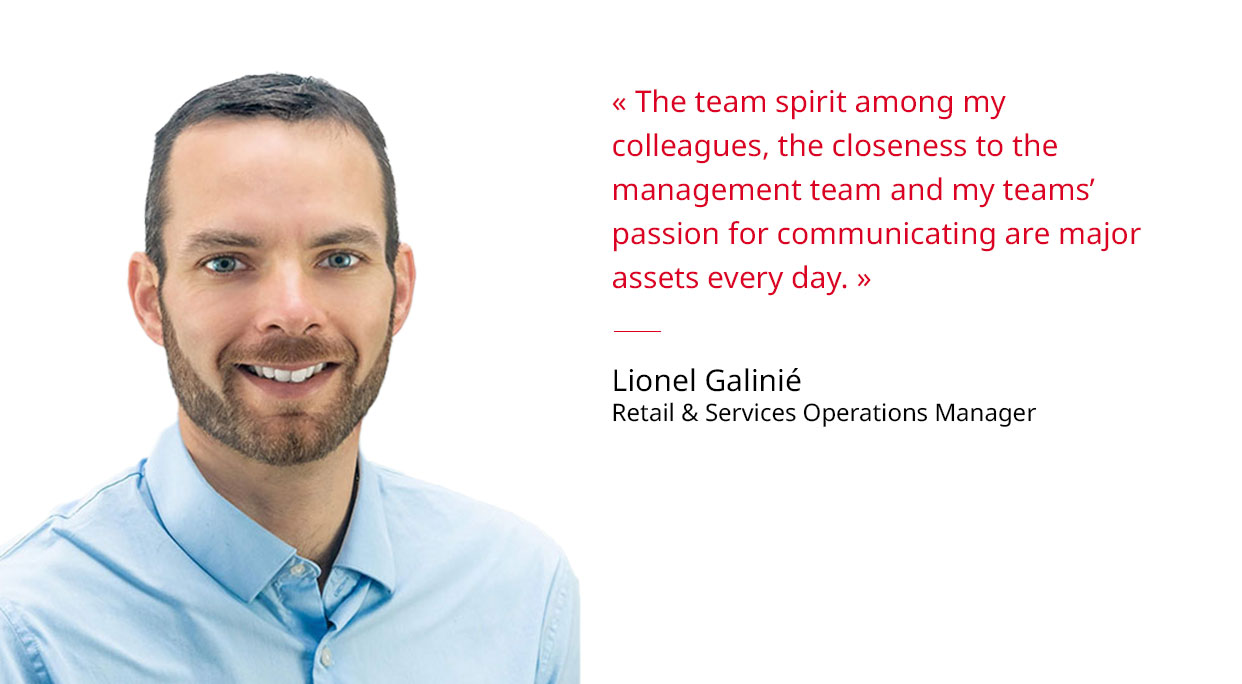 "I joined Bucher Vaslin in 2020 as a project manager for cellar engineering projects in France and abroad.
Following this enriching experience in terms of technical, commercial and customer service aspects, I was given the opportunity to progress to a position in charge of sales and service operations for the south of France, the Iberian Peninsula and South America.
Bucher Vaslin is a company that gives its employees the opportunity to develop, by trusting them and offering them personalized support throughout their career.
The team spirit among my colleagues, the closeness to the management team and my teams' passion for communicating are major assets every day."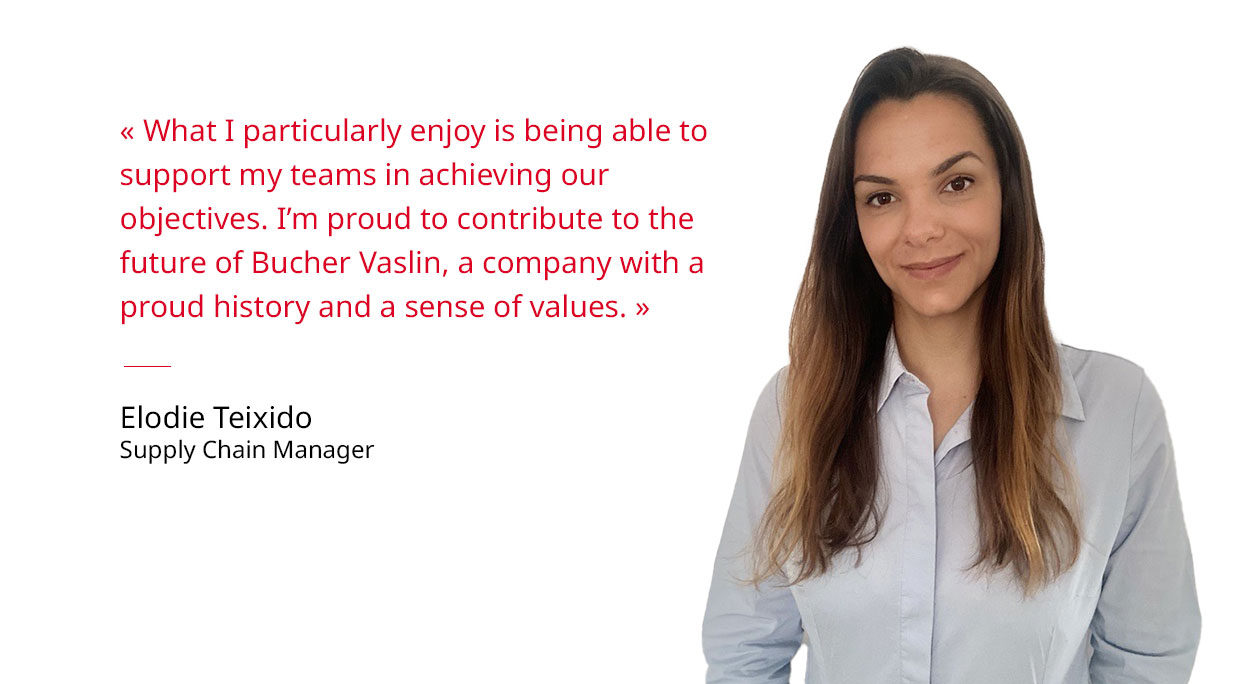 "My name is Elodie Teixido, I'm 31 and I'm Supply Chain Manager at Bucher Vaslin.
My main task is to manage all the flows within a logistics chain, to ensure that our customers receive their orders on time.
After an apprenticeship, the company offered me the opportunity of a permanent position to start my career as Supply Chain Manager. I've been part of the Bucher Vaslin team for 7 years now, and there's never a dull moment!
What I particularly enjoy is being able to support my teams in achieving our objectives. I'm proud to contribute to the future of Bucher Vaslin, a company with a proud history and a sense of values."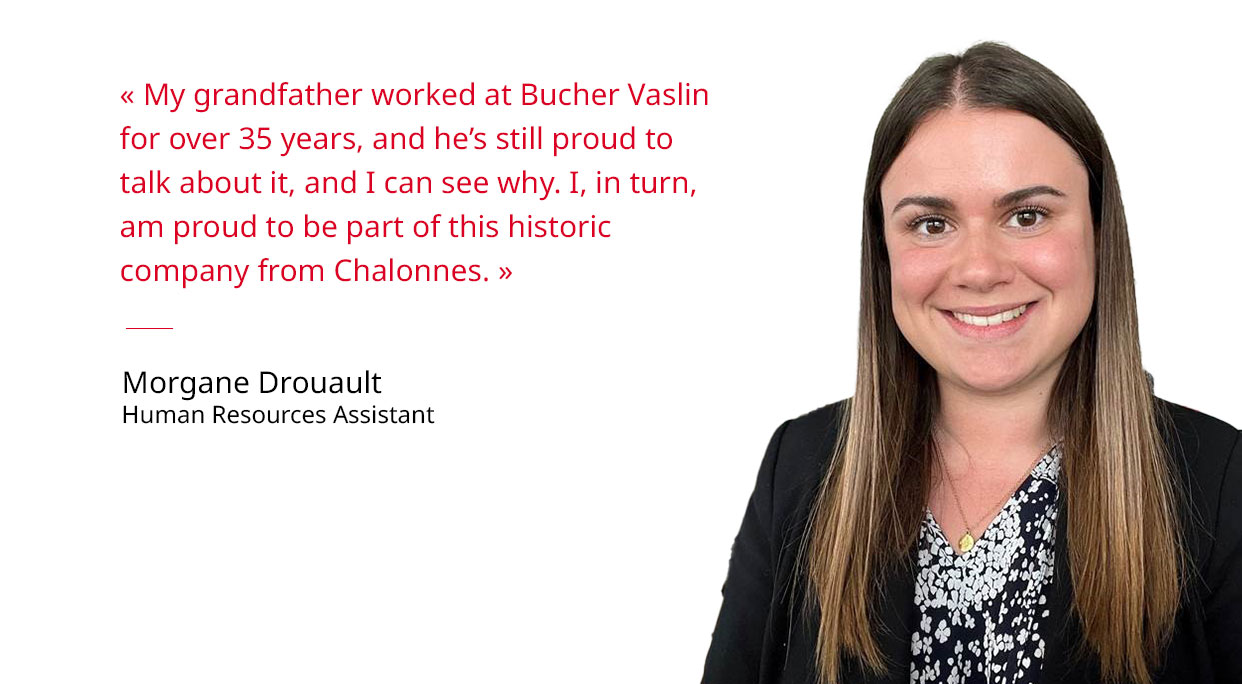 "I joined Bucher Vaslin a year ago as a Human Resources Assistant. I was then trusted and offered the position on a permanent basis, which I accepted without hesitation.
On a day-to-day basis, we work together with my team to meet the challenges of recruitment, personnel administration, work-study schemes, payroll, training and so on. There's never a dull moment!
My grandfather worked at Bucher Vaslin for over 35 years, and he's still proud to talk about it, and I can see why. I, in turn, am proud to be part of this historic company from Chalonnes."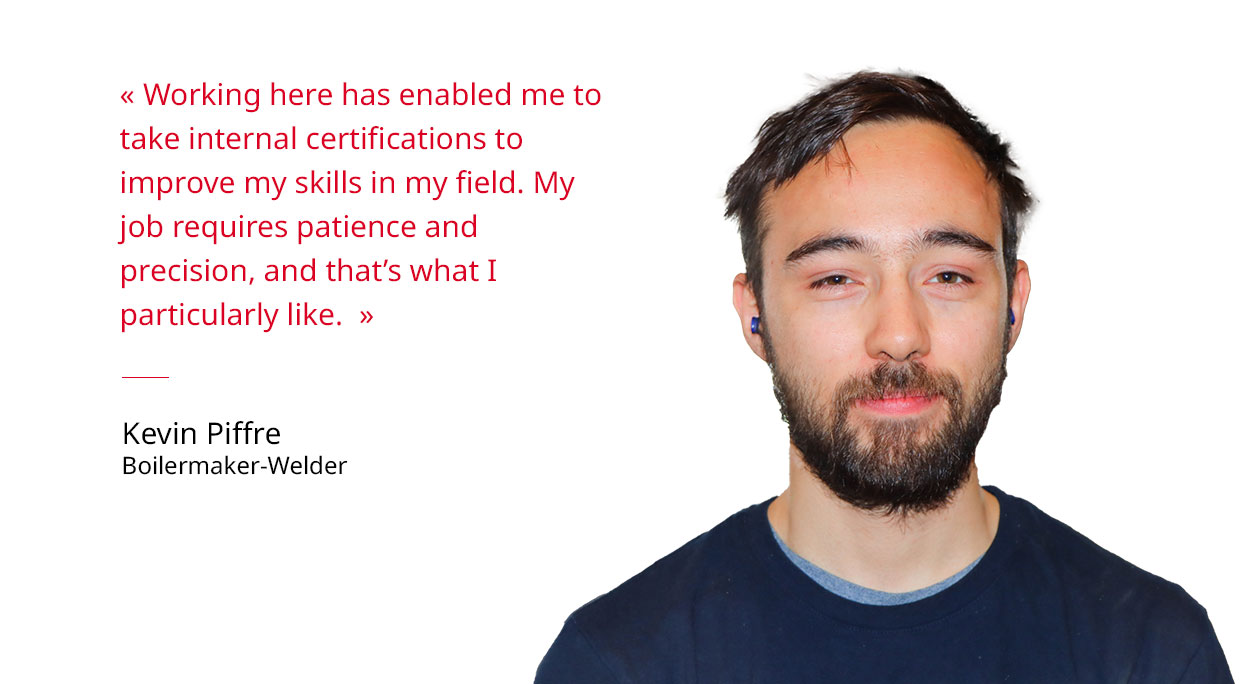 "Arriving in 2019 following my professional diploma in welding finishing, I'm working at Bucher Vaslin as a boilermaker welder. 
Working here has enabled me to take internal certifications to improve my skills in my field. 
My job requires patience and precision, and that's what I particularly like. 
I now have the opportunity to progress within the company, and from September I'll be starting a work-study diploma in the Methods department."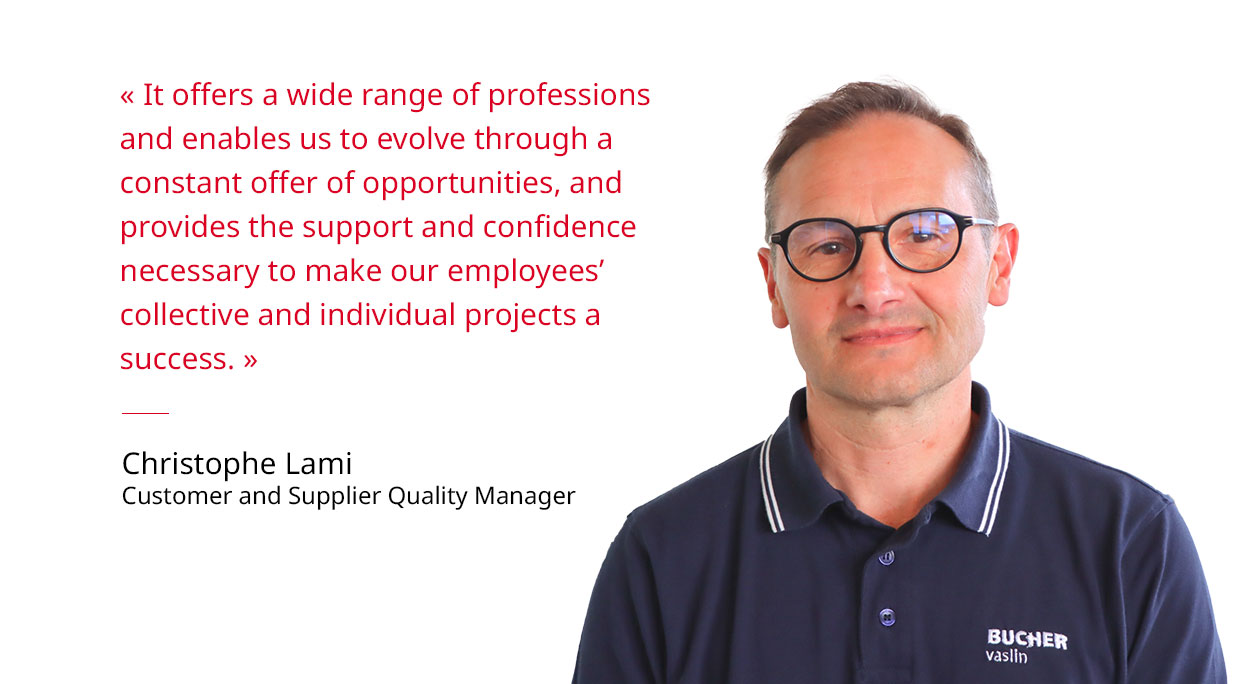 "My name is Christophe Lami and I'm in charge of product and customer quality. 
I began my career at Bucher Vaslin 33 years ago, contributing my expertise as a high-frequency welding technician to develop the membrane manufacturing workshop.
Then management offered me the chance to continue as a team leader in the membranes, composites and joinery sectors. I held that position for 5 years before moving on to the assembly sector, where I was able to manage several lines of activity before progressing to the position of assembly production unit manager for 6 years.
Bucher Vaslin is an agile, internationally-oriented company that constantly mobilizes and adapts to market demands with innovation and new industrial processes to achieve our goals together.
It offers a wide range of professions and enables us to evolve through a constant offer of opportunities, and provides the support and confidence necessary to make our employees' collective and individual projects a success."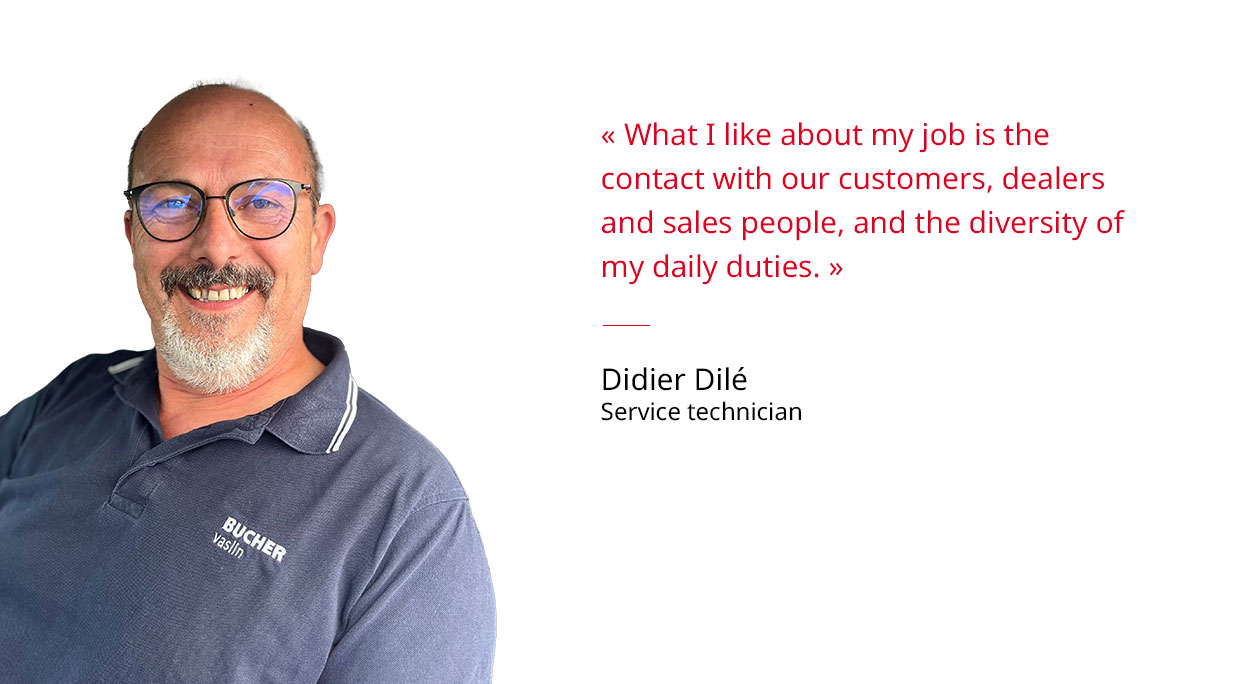 "I joined the company in 1990 as a cable fitter, and then had the opportunity to install mechanical and electrical cellars for 10 years all over France.
Today, I'm an After-Sales Service Technician and I travel around Bordeaux and the Gers.
What I like about my job is the contact with our customers, dealers and sales people, and the diversity of my daily duties.
My career and the people I've met at Bucher Vaslin have only strengthened my attachment to the company, and after a 33-year career I'm still just as enthusiastic about coming to work."
"Having joined Bucher Vaslin as a Methods Technician in May 2021, I was quickly given the opportunity to progress to the position of Subassembly Cluster Manager in October 2021.
My role is to support a department of around 70 people in terms of productivity, technical aspects and human resources.
My job allows me to lead investment, implementation, flow management and continuous improvement projects, thanks to the quality of the teams' work and the trust placed in me by the company.
The team spirit, benevolence and good atmosphere allow me to blossom on a daily basis in my job."